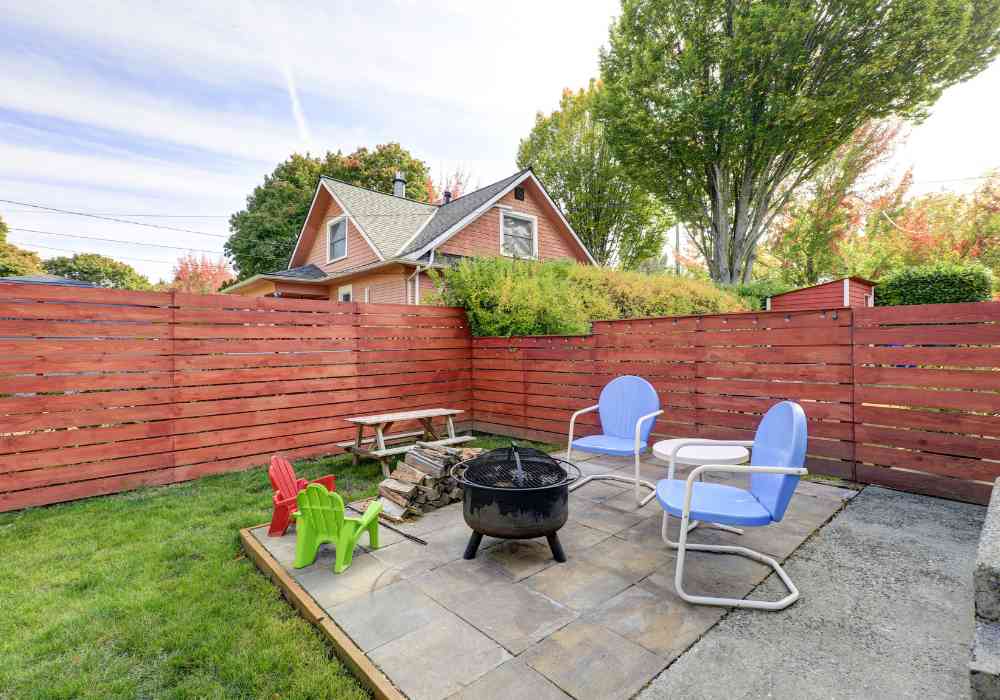 Just because you have a tiny yard, balcony or patio doesn't mean you have to miss out on al fresco cooking. With smart design and compact equipment, you can create a small but mighty outdoor grill area perfect for impromptu weeknight dinners or weekend entertaining.
Whether you have a sliver of porch, petite patio, postage stamp yard or even just a windowsill, these 15 small outdoor grill area ideas will help you whip up an efficient and stylish grilling oasis. Get ready to master grilled meats, veggies and more – even in the most pint-sized outdoor spaces.
When planning your petite grill zone, the first steps are assessing your outdoor footprint and choosing equipment sized accordingly. Measure your usable area and look for gas grills no larger than 300 square inches or charcoal units around 200 square inches cooking surface. For extras like side tables or shelves, go for foldable or wall-mounted options.
Optimize every inch by building in multi-purpose areas for food prep, storage and seating. Going vertical is key – hang racks for spices and utensils and install stacked stone walls or vertical gardens as space savers. With clever layouts and compact components, you can cook up outdoor feasts in the most diminutive of yards.
15 Small Outdoor Grill Area Ideas for Maximizing Your Outdoor Cooking Space:
1. Balcony Barbecue
Don't let an apartment or condo limit your grilling – take it to the balcony! Look for an electric or propane grill designed specifically for balconies, like Weber's sleek Q2400 model with 189 square inch cooking area. Ensure your balcony can support the grill's weight.
Place it on a small table or plant stand to bring the grill up to a comfortable work height. Add a couple barstools for seating. Hang a wire shelf on the wall behind the grill for spices, plates and tools. Add whimsical string lighting overhead to complete your micro grilling oasis.
2. Grill Cart
Make the most of a postage stamp patio with a slim rolling grill cart you can easily move around. Choose a narrow cart under 2 feet wide – or repurpose a kitchen cart or wine cart. Load up a compact charcoal hibachi or tabletop gas grill.
Under the grill, add fold-down shelves and baskets for storage. Throw on some caster wheels so you can conveniently roll the unit in and out of place as needed. A grill cart minimizes footprint while maximizing functionality.
3. Wall-Mounted Grill
Free up precious ground space by installing a wall-mounted grill station. Simple BBQ models mount directly onto exterior walls. Or construct a sturdy wooden wall frame to mount your grill in.
Flank with wall-fixed shelves for grilling tools and ingredients. Below, tuck away a folding table and stools that can be pulled out for al fresco meals. A wall-mounted grill helps condensed patios live large.
4. Grill Nook
Tuck a petite charcoal or gas grill into a dedicated nook for an organized, efficient setup. Use partitions, half walls, or fencing to create your nook. Face it with heat-safe stone or brick.
Install built-in shelving and cabinets on the sides for storage. The tailored nook hides clutter while keeping your essentials right at hand. Make room for a bistro table and chairs nearby.
5. Patio Grill Station
Build a space-saving grilling station along one side of the patio for a contained cooking zone. Set up a long and narrow table or kitchen cart with your compact grill on one end.
Include fold-down prep space on either side, as well as hooks, shelves and cubbies for organizing grilling tools and supplies neatly.Face the wall behind the station in easy-clean tile.
6. Built-In Grill
For a custom look even in petite yards, install a built-in gas grill and countertop. Choose a 20 to 30 inch grill size. Build a stable base from bricks or concrete blocks with the grill inset.
On one side, pour a concrete countertop or install a weather-resistant butcher block. The sleek, uniform built-ins make a stylish cooking zone. Add a bistro set or backless stools.
7. Rooftop Retreat
When yard space is scarce, head upstairs! Set up a rooftop cookout zone, perfect for city dwellers with little outdoor square footage. Opt for a compact gas grill for low smoke.
Look for grill models approved for rooftop use with flame-tamers and secure balance. Outfit the space with patio furniture, potted plants and string lights. Grill meats and veggies with a birds-eye view.
8. Grill and Chill Zone
Get double duty from your petite patio by combining the grill with a chill space. Place a small gas or electric grill to one side, leaving a pathway open in the middle.
Flank the opposite side with colorful adirondack chairs or hammock chairs around a fire pit. Relax by the fire while grilling dinner just steps away in this 2-in-1 micro entertainment area.
9. Compact Gas Grill
When your outdoor space is pint-sized, a streamlined gas grill takes up minimal footprint while still delivering grill master results. Look for tabletop propane models around 170 to 200 square inches cooking space.
Smaller grills like Weber's sleek Spirit II E-210 boil down the features into a compact body. The enclosed firebox helps contain heat and reduce smoke. Add a folding side table for temporary food prep space.
10. Vertical Garden Wall
Maximize a narrow grill zone by going vertical with a green wall. Set up the compact grill area, then build or install modular vertical garden boxes on the fence or wall behind it.
Plant an array of herbs, greens and colorful blooms. The vertical greenery softens hardscaping and gives your cookout zone an inviting, contemporary edge.
11. Grill Hut or Gazebo
House your mini grill setup in a custom hut or gazebo to create an intimate outdoor room. Install a manufactured pop-up gazebo or build one from scratch using lumber or PVC pipe. Add mesh walls if desired.
Inside, place a compact grill and bistro table with two chairs. Decorate the interior with fun accents like string lights and bunting. The dedicated structure transforms even the smallest yard into grill central.
12. Deck Grill
Small, second story decks can still accommodate grilling with the right setup. Choose an electric or propane grill so you don't have to lug fuel upstairs. Ensure the deck framing supports the grill's weight.
Place a rubber mat or grill pad underneath to protect the deck boards. Set out folding deck chairs and a collapsible bistro table for an intimate, elevated cookout zone.
13. Portable Fire Pit Grill
When space is extremely limited, get creative and grill over your portable fire pit! Compact fire pits generally allow cooktop grates. Or place a small hibachi grill over the flames.
This multifunctional setup pulls triple duty as a heat source, grill and conversation area. Just be sure to place it on a non-flammable base away from combustible patio materials.
14. Compact Smoker Setup
Even tiny patios can accommodate a compact smoker so you can get your barbecue fix. Opt for a small electric smoker rather than charcoal, which requires more clearance.
Place it on a sturdy table or plant stand to lift it up. Set up two foldable chairs in front – smoking times are slower, perfect for sitting back and enjoying the wait. Add a side table for serving up smoked treats.
15. Under-Counter Grill
For obscure or unused outdoor spaces, install a grill under the counter. Choose a narrow, 20-inch built-in grill. Mount it under a weather-resistant counter secured to the wall of a covered patio or barn.
Surround with simple cabinetry or shelving to enclose the cooking zone. When not grilling, close the cover for a hidden, protected grill out of the way but conveniently on hand.
Concluding Thoughts
Outdoor grilling is such an integral part of summer, so don't resign yourself to a sad, grill-less season just because your yard is pint-sized. With resourceful spaces and compact equipment sized right, you can summon serious barbecue flavor from the smallest of patios, balconies and porches.
Apply design strategies like going vertical, maximizing every inch, and selecting multifunctional furniture and tools. Combine cooking and chilling in one petite zone. With the right layout, even the tiniest outdoor areas can become destinations for memorable summertime grilling gatherings.
FAQs:
What are some space-saving grills good for small areas?
Look for compact propane or electric grills around 200 square inches cooking space or smaller. There are many tailgate size portable grill models perfect for small patios. You can also install a built-in grill as small as 20 inches wide.
How much clearance do you need around a small grill?
Allow at least 12 inches clearance on all sides and above the grill. For charcoal grills under 200 square inches, you may only need 10 inches. Always check manufacturer guidelines.
What are some good side options for a tiny grill area?
Foldable shelves, wall-mounted racks, rolling carts with under-storage and folding bistro tables work well for compact grilling stations. Go for wall-fixed or freestanding options you can stow away when not cooking.
Should you grill on an apartment balcony?
Yes, as long as your building allows it and your balcony can safely support the grill weight. Opt for small electric grills designed for balconies and closely follow all codes and manufacturer instructions. Never leave the grill unattended.
What are some grilling alternatives for small outdoor spaces?
Consider using a portable fire pit, pizza oven or smoker instead of a traditional grill if space is extremely tight. You can cook many foods like kebabs, hot dogs, shrimp and veggies over a compact fire pit.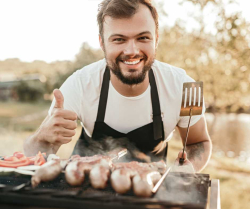 Latest posts by Michael Davis
(see all)